There are Smart People Behind Every Smart Technology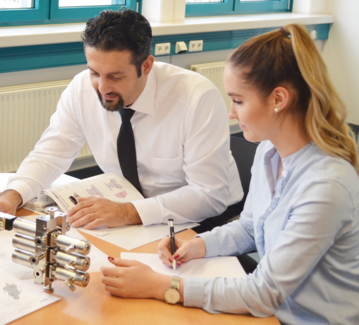 The success of the SED Flow Control GmbH and the quality of our products depend to a large extent on our employees. The work our staff does today determines our success of tomorrow.
As an ever-growing, medium-sized company, we are always looking for enthusiastic employees. The focus is not only on training new workforce, but also on the promotion and further development of existing employees. In addition, SED offers experienced people the opportunity to take the next step in their careers, because job prospects exist in all areas of the company.
We are part of the SAMSON Group, which has production sites in Germany, France, Italy, Spain, Turkey, India, USA, China and Russia, plus more than 50 subsidiaries and over 200 sales locations worldwide in more than 40 countries. As a specialist in pharmaceuticals and biotech, we ensure that the environment can be better protected, medicines, food & beverages like beer and sweets are produced, modern technologies are developed and water, oil and gas can flow.
Join us and help us grow. Continuously. Together. Become part of SED now!
Please note that the majority of our jobs is advertised in German.